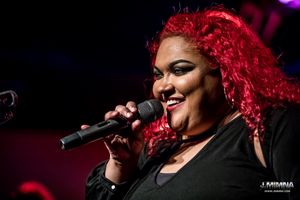 Joy Jaeger- Lead Vocals
Born and raised in the great state of Louisiana, Joy began her musical journey at a young age singing in church choirs, theatre productions, bands and academic vocal groups. In college she earned her degree in Religion and Theatre and, more importantly, met her husband in a collegiate vocal ensemble. Joy's musical influences include Chaka Khan, Phyllis Hyman, Nancy Wilson, Prince, Freddie Mercury, Irma Thomas, Teena Marie and EWF. In addition to a deep, abiding love for song, Joy also enjoys acting. She has appeared in numerous plays and musicals across the country including Sweeney Todd, Jesus Christ Superstar, Cabaret, Blood Reign and On the Verge. When she's not making music Joy enjoys cooking, reading, dancing and cheering on her New Orleans Saints. Joy also gives vocal lessons and you can find out more about her other musical endeavors
here
.
Jerry Hermosillo- Lead Vocals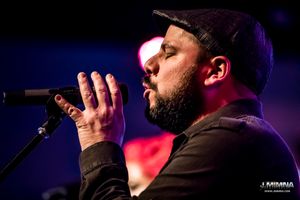 Jerry is a Denver Native, and has been performing around the state of Colorado for over 10 years. The mostly self-taught singer/ songwriter/guitarist has performed solo, as well as with different bands, including his first band (Upper Hand), which was a Latin Rock and Soul four piece act, as well as a five piece Rock and Metal band (My Own Device) where he is able to play with cousin and current Thumpin member Nate on the drums. Jerry was also a member of Denver's own Buckner Funken Jazz for three and a half years and played at many festivals and shows. The most memorable of these shows occurred in the summer of 2006 at the world famous Red Rocks Amphitheater for the Film on The Rocks series. He has released two albums, one with Upper Hand in 2003 and one with BFJ in 2006. Influences include, but are not limited to, The Beatles, Steely Dan, EWF, Stevie Wonder, Living Colour, Alice In Chains, Michael Jackson, Extreme, Basia, Harry Connick Jr, and Santana. Special shout out to the Big Four (Metallica, Megadeth, Slayer, and Anthrax) who were very inspirational when learning how to play the guitar in the first place. Jerry is looking forward to his latest musical adventure with Thumpin and encourages everyone to support their local musicians and artists. Please check out his web site
http://jmhermo.wix.com/music
and find out where and when he performs acoustically. Jerry loves his Denver sports teams and watches all of them on his down time. His two beautiful kids and lovely wife also keep him pretty busy.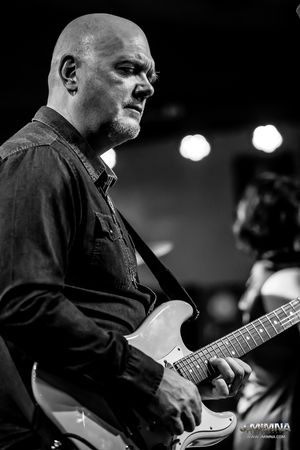 Bill Adamsky- Guitars and Vocals
Bill Adamsky is a dyed-in-the-wool, bleed-black-and-gold, hardcore Steelers fan from Pittsburgh, Pennsylvania. He picked up his first guitar, a 1979 Gibson Explorer, at age 14 and played his first gig (for 20 bucks and free beer) at 17. Bill started out as a rocker whose guitar gods included David Gilmour, Jimmy Page, Tony Iommi and Alex Lifeson. In college, he bought a Strat and began his love affair with groove-oriented rock, digging on bands like Fishbone, Prince, Red Hot Chili Peppers and Living Colour. As an adult, he dug deeper into classic funk, soul and R&B, uncovering the Meters, Tower of Power, Stevie Wonder and James Brown. His playing style is indicative of his influences, emphasizing an affinity for clean, scratchy rhythms and melodic soloing as well as power chords and balls-out rock-and-roll shredding. Fender guitars, Mesa-Boogie amps, and TC Electronics signal processors are his faves.  Bill and his wife are both high school English teachers who live in Northglenn, Colorado. Apart from his musical interests, Bill also enjoys cycling, hiking, camping, skiing, traveling, cooking, reading and first-person shooters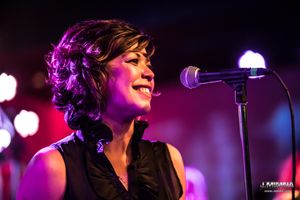 Jackie Oxford was born in Vietnam but hails from Colorado Springs. Her love of music began in  elementary school singing with the choir & playing clarinet in the school band. Her equal  passion for dance led her to Chicago where she attended Columbia College where she  received her BA in Teaching Dance. She created and is the owner of Local Motion Dance teaching both children's dance classes & adult yoga classes. When not performing with  Thumpin', Jackie enjoys Pina Colada's & gettin' caught in the rain.
Jeff Fournier- Bass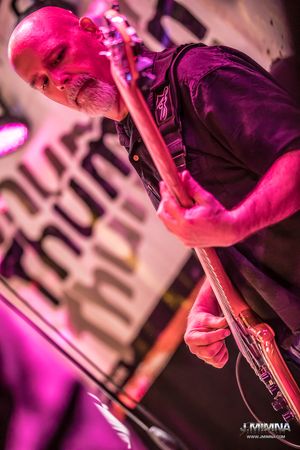 Jeff Fournier originally hails from the GTA up in Toronto, Canada. He started his musical journey at a young age playing mandolin and guitar at bluegrass festivals, a short detour through post-secondary accounting convinced him to change majors to music. Six years of schooling later, he went abroad touring exotic locations (Alaska to Central and South America, the Caribbean, Mediterranean, and all points in-between) with many bands for years on cruise ships, where he met and played with some of the finest musicians anywhere. Artist tours took him to many places all over the United States and beyond to Europe and the former Soviet Union. These days Jeff  makes his home in Denver, Colorado where he enjoys all aspects of this life through the pursuit of the readily available outdoor activities the mountains provide, as well as the state's great wealth of most excellent musicians. Some people Jeff has played with include, but are not limited to: E-Town, The Platters, Melanie, Firefall Charo, Bowser (Shanana), Vic Damone, Al Martino, Xavier Cugat Orchestra, the National Repertory Orchestra, Al Vizzutti, Ethereal Plane, Denver Pops Orchestra, members of; The String Cheese Incident, Robert Walters, Karl Denson's Tiny Universe, White Water Ramble. Jeff also likes moonlight strolls on the beach.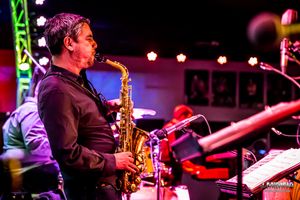 Daryl Gott- Alto Saxophone
Daryl Gott:  born and raised in Denver , Colorado,  Daryl grew up in a musical family.  He started to play piano in elementary school and switched to saxophone a couple years later.  Daryl attended Denver School of the arts for high school and City College of New York for college, where he studied jazz saxophone.  Since college, Daryl has been playing and teaching  saxophone professionally in the Denver area.  He has performed with such notable musicians as: Greg Gisbert, Dick Oatts, Ethan Iverson, Eric Gunnison and John Abercrombie.

 
Eric Erhardt- Tenor Saxophone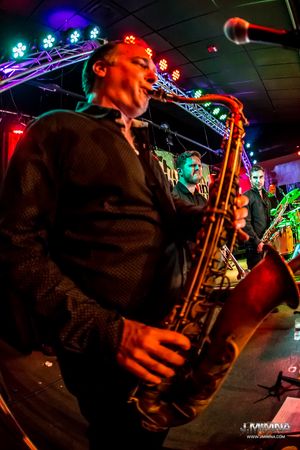 Eric Erhardt, originally from Philadelphia, PA is a graduate of the Eastman School of Music and the New England Conservatory. He has performed internationally as a multi-instumentalist in several touring productions, including Fosse, A Chorus Line, Grease, She Loves Me, Ragtime, and The Big Apple Circus. Eric also toured and was featured with such diverse artists and groups as Ken Peplowski, The Artie Shaw Orchestra, Steve March-Tormé (son of jazz legend Mel Tormé), The Stylistics, The Drifters, The Either Orchestra, and many others. As clarinet soloist on Benny Goodman's Sing, Sing, Sing with the musical Fosse, Eric shared the stage with Broadway icon Ben Vereen in Paris, France, and West End star Ruthie Henshall throughout the United Kingdom. Currently he lives in Denver, CO, and maintains an active performance schedule along the Colorado Front Range and beyond.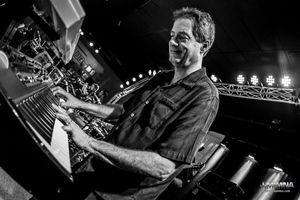 Tim Ensner – Keyboards
 
A Denver native, Tim's been funkin' since 'back-in-the-day'. Early influences include Stevie Wonder, James Brown, Sly and The Family Stone, EWF, AWB, and Tower of Power. He began piano lessons at the age of 10, and in high school studied jazz improvisation with Neil Bridge at the Career Education Center in Denver. Continuing in college, he studied music theory at Metropolitan State College while pursuing a marketing degree. Tim enjoys many styles of music. His primary keyboard influences include Herbie Hancock, Stevie Wonder, Chic Corea, Joe Sample and Bob James. He has performed with various Denver jazz and R&B groups including Quantum Jazz, Cynthia Stall,The Rock'O'Fellas, Dat Damn Band and First Take Band.
Jeremy Sandoval-Percussion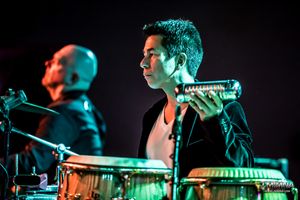 A native of Colorado, Jeremy has been involved in the performing and education scene for over 15 years. His degrees in Percussion Performance are from the University of Northern Colorado and East Carolina University in which he has taught both University drumlines and served as a teaching assistant; teaching percussion ensembles and undergraduate applied percussion. Soon after receiving his degrees, Jeremy went on to teach at St. Cloud University in  St. Cloud, MN and a few years later, Colorado State University in Ft. Collins, CO as the Director of Percussion Studies. 

Jeremy's versatility has allowed him to experience several groups and ensembles covering a wide variety of genres such as; professional percussion ensembles, orchestral (Colorado Ballet, Denver Brass), salsa, rock, Brazilian, afro-cuban, steel drum bands, jazz, pop, and of course R&B, funk, dance, respectively. He has performed in over 35 US states and been a part of over 40 CDs as either a member or session player.

As an educator, Jeremy has taught at many Colorado high schools while serving as their percussion instructor. He currently teaches at 3 high schools and clinics at several others in areas of marching percussion and concert percussion. In recent years, Jeremy was also a member of the Education Committee for the Percussive Arts Society (PAS), an international percussion organization, where he co-chaired a committee of percussion educators for developing a standard percussion curriculum for high school and college level students.

Jeremy is very excited to be joining Thumpin' and is very much looking forward to new experiences, new friendships and most important...making you dance!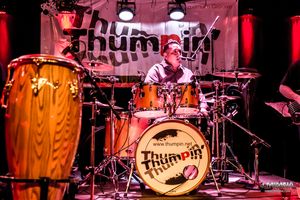 Nate Torres- Drums
 
Nate Torres is a Denver, Colorado native who was born into a musical family. He first started performing at the age of five with his grandparents. By the time he was a teen, Nate had moved from the bass to the drums sneaking onto his older brother's kit anytime he had the chance. Nate played in bands throughout high school and then took a musical break. In 2008, he formed a metal cover band, My Own Device, with friends and family. The band quickly took off and was soon playing covers from the '80s and '90s as well as current hits in venues all over Denver. Nate has diverse musical interests, but counts the funk and old school tunes his parents raised him on as one of his great influences. Earth, Wind and Fire, Tower of Power, Cameo and Marvin Gaye are among his favorites, as is the music of his brother Jason.